Auctioneer Dreweatts is offering the finest ever collection of works to come to market by one of the leading British landscape painters, Benjamin Williams Leader (1831-1923). The private collection of twelve artworks charts the artist's development from the 1850s to the 1910's, showcasing views of Worcestershire, Surrey and Wales.
Speaking about the collection, Brandon Lindberg, Head of Dreweatts British & European Pictures, said: "We are delighted to be offering the Barnes collection of works by B W Leader, one of the most popular and celebrated British landscape painters of the 19th Century.  His work captures the timeless beauty and enduring appeal of the English countryside." 
Leader was born in Worcester, England, an area he would beautifully capture in his works over the course of his lifetime. His father was great friends with the renowned landscape artist John Constable (1776 -1837) and as a young boy Benjamin would accompany him to sketch along the banks of the River Severn, while his evenings were spent studying art at the Worcester School of Design.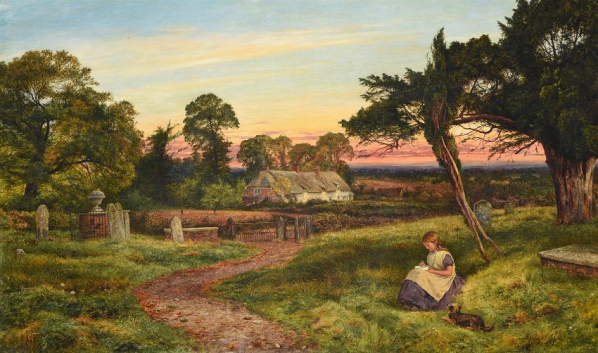 His inspiration for his early works was the countryside around Worcester. He would capture farmhouses, churches, cottages, trees, fields, hedgerows and lanes.
At the age of 23 in 1854 he was accepted as a student into the Royal Academy School in London, where his talent was evident early on and his works became extremely popular. He settled back in Whittington, near Worcester and continued painting, sending his paintings to the Royal Academy exhibition every summer until he was 91. His works were praised for their recognisably English character and he was seen by critics as continuing the long tradition of English landscaping painting. Such was the demand for his works that many went to private galleries, so were never publicly exhibited.
Focus
He would also venture further afield to see contrasting landscapes, visiting Scotland, Wales, Surrey, Devon and Northern England, as well as France, Belgium, Germany and Switzerland. However during ten years of his life his time was divided mainly between Worcestershire and Wales, which is reflected in his oeuvre. In 1889 he moved his family to Burrows Cross, near Guildford in Surrey, where he lived until his death in 1923.
His early works were influenced by the Pre-Raphaelites with the depiction of very fine details and the focus on painting outside. He developed a looser style later on, leaning towards Impressionism. His works are exhibited in Museums around the world, among them the Tate Gallery and Victoria and Albert Museum.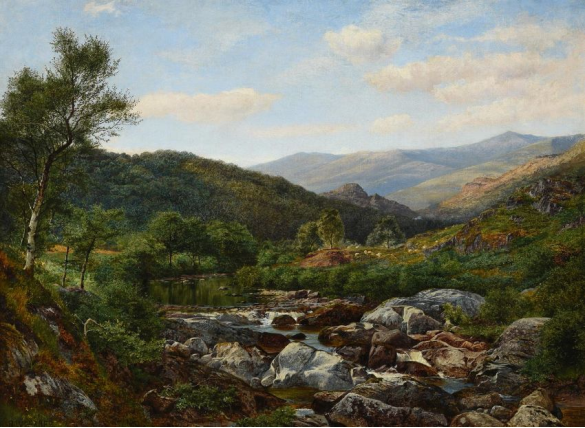 Among the works on offer is The Outskirts of a Farm (seen top of page), painted near the artist's home in Whittington, Worcestershire, which portrays a local farm in summer, a time and season that the Pre-Raphaelites preferred, as their optimum opportunity for visual clarity. It carries an estimate of £20,000-£30,000 (Lot 200). Another classic English country scene titled An English Country Churchyard features a small village churchyard with a farmhouse in view and a small girl in the foreground. A serene scene with the light captured beautifully in the background, this oil on canvas carries an estimate of £30,000-£50,000 (Lot 203).
Among scenes from North Wales is a painting called On the River Llugwy below Capel Curig which is thought to be the first painting purchased by the London art dealer Thomas Wallis (both Wallis and Thomas Agnew, also an art dealer, began selling Leader's works around the same time). Benjamin formed a close friendship with Wallis and would often stay at the dealer's home in London. He also hosted Wallis and his family in Worcester. It is believed that Wallis purchased this painting when it was exhibited at the Worcester Society of Arts. A soporific river flows in the foreground, with majestic mountains framing the scene behind. The oil on canvas is estimated to fetch £4,000-£6,000 (Lot 199).
Common
When Leader moved his family to Surrey in 1889 he bought a house at Burrows Cross, south of the village of Gomshall, near Shere in Surrey. The nearby common was untamed common land, with trees, heather, gorse and bracken, a perfect spot for painting. A Surrey Common, near Gomshall is in oil on canvas and has an estimate of £1,500-£2,000 (Lot 205).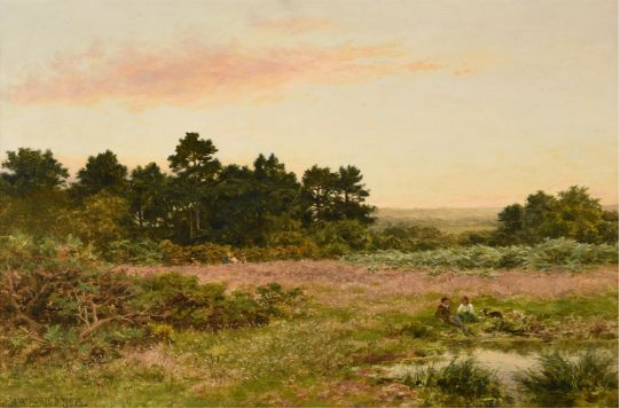 Benjamin's brother Edward Leader Williams (1828-1910) was a notable civil engineer, who was famous for designing the Manchester Canal, a new ship canal linking Manchester with the Irish Sea. Edward was chief designer and engineer, helping the Manchester Ship Canal Company formulate its proposals for the necessary Act of Parliament. From its initial reading in 1883, it took two years for the Bill to receive Royal Assent and a further two years before the first construction work started, in November 1887. The canal opened in 1894 and has been described as 'a feat without precedent in modern history'. Edward was knighted by Queen Victoria for his work on the project.
The canal became the subject of several of Benjamin's paintings, for which three pencil drawings in the sale act as studies. Construction of the Manchester Canal which is framed as one, is estimated to fetch £200-£300 (Lot 208).

The event takes place on December 14th, 2022.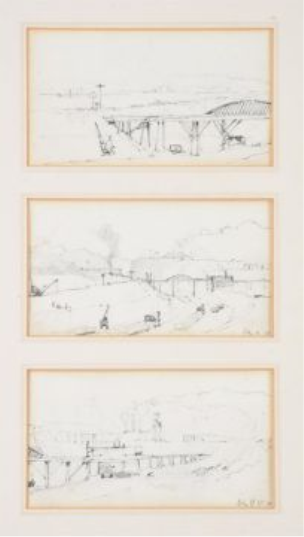 See also: TEFAF Maastricht 2023 Announces International Exhibitors